Otek Wireless Bluetooth AirBuds Earphones
not for sale
[£24.96 ex VAT]
[£29.95 inc VAT]
Delivery info
Postal Delivery £1.99
item # 433115
mfr's model # Airbuds1
Condition:
New
Warranty: 12 Months warranty
What It Does
Specifications
The impressive Otek AirBuds are a serious alternative to high priced Apple AirPods! They offer the same functionality, style and comfort! With fantastic quality audio, rich bass, crisp mid range & clear high notes. Take a look at this comparison: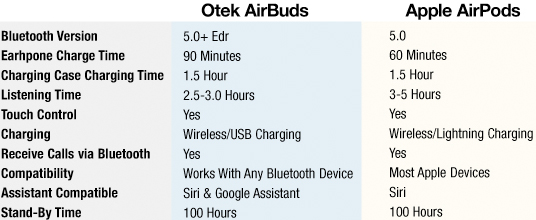 Compatible with just about any Bluetooth enabled audio device. Connect effortlessly to your Apple iPhone, Apple Watch, iPad, Mac, PC, Android Tablet or Phone using Bluetooth 5.0
A snug comfortable fit in your ear, listen for up to 3 hours, recharge in the Battery Case up to 3 times. They reconnect to your phone just taking them out of the case! The battery case its self can be recharged either by USB-C or Wireless Qi charging pad.
You will not be disappointed with these incredible wireless AirBuds.
AirBud Touch Control - Answer calls, play pause or skip music and activate Siri/Google Assistant
Wireless & USB-C charging
Works with almost any bluetooth device
Multiple AirBud recharges from the charging case
Bluetooth Version: 5.0+ EDR
Compatibility: Almost any bluetooth device
Charging Case Battery: 350mAh
Earphone Charge Time: 1.5 hours
Charging Case Charging Method: USB C or Wireless
Frequency Response: 20Hz - 20KHz
Sensitivity: 107 dB SPL +/- 3dB
Charging Case Dimensions: 4.40 x 5.40 x 2.00 cm (W x H x D)
Customer Reviews
Im really pleased with them. They work well & are good value compared to the Apple product. Ive had no problems charging or using. If you want some earbuds give these a try!
I am a fan of headphones and I use them a lot for listening to Audible books at home and on the move. These are comfortable to wear and offer good sound quality. They come in a handy charging case offering all the advantages of a well known brand (you know who!) at a fraction of the price.
Recycling
You can now recycle your old electricals with us. If you are buying a new electrical item, we will recycle your old one for free. Read more about our recycling programme.