FAQs
Q: What do your Grades Mean?
A:
New
Brand new unused product. Includes surplus, aged and unopened return stock. Sold with a 12 month manufacturer warranty. In original packaging. Unless otherwise specified.
As New
Open boxed returns/cancellations/surplus or full factory reconditioned stocks in Good As New condition. Sold with a full 12 month warranty. Shipped in retail or plain box. Packaging may show marks. Check individual items for additional specifications or special conditions.
Refurbished / Grade A1
Thoroughly tested and inspected. Products may show minor cosmetic marks and signs of use, including small scratches, dents or wear marks on keyboards/screens/touchpads. Sold boxed with mains adapter/charger and a minimum 3 month RTB warranty. No defect will effect item use/performance. Check individual items for additional specifications or special conditions.
Refurbished / Grade A2
Thoroughly tested and inspected. Products may show medium cosmetic marks and signs of use, including medium scratches, dents or wear marks on keyboards/screens/touchpads or minor cosmetic damage. Sold with mains adapter/charger and a 3 month RTB warranty. No defect will effect item use/performance. Check individual items for additional specifications or special conditions.
Pre-Owned
All items are thoroughly tested. Products are pre-owned. They may have considerable cosmetic marks, scratches or dents but none that effect the functionality of the item. All items are sold with a 30 day RTB warranty.
Q: When will Microsoft stop supporting Windows 10?
A: The information supplied by Microsoft support on the life cycle of its operating systems says that Windows 10 'support' ends Oct 2025!
Keep your Windows 10 Up to date and the support, security and patches will continue until that date.
You may well be eligible/offered an upgrade to Windows 11 by Microsoft at any point during this time via Windows Update. That 'upgrade' may well be offered FREE, subject to your system being compatible.
For more info please refer to the Microsoft lifecycle page - HERE
Q: Will the PC/Laptop upgrade to Windows 11?
A: There is still a lot of confusion over which older machines will/won't be updatable to Windows 11! Microsoft's specs/messages have changed and may change again once the OS is on general release.
Q: How do I enable dual screen on my PC or laptop?
A: Despite popular opinion, it's actually possible to set your PC with 2 screens and your laptop up with 1 additional screen without the need for an expensive graphics card.
Using Windows 10, select Start > Settings > System > Display. Your PC or laptop should automatically detect your monitors and show your desktop. If you don't see the monitors, select Detect.
You will see a Multiple displays section, from the drop down box make sure Extend these displays is selected.
Once you've selected what you see on your displays, select Keep changes.
Using Windows 7, right-click any empty area of your desktop, and then click Screen resolution. Click the Multiple displays drop-down list, and then select Extend these displays.
If you cannot see the additional monitor(s) listed, click Detect. If that does not work, try restarting your computer and do the first and second step again.
Select Apply and then OK to keep these changes.
Q: When will my order be despatched ?
A: Subject to stocks and cleared funds, most orders will be dispatched within 24 hours. We strive to ship orders same day if ordered before 3pm, using either DPD courier service or Royal Mail postal services.
If your order is placed after 3pm Friday, Saturday or Sunday it will be due to despatch on the Monday.
In the case of Bank holidays, please be aware we are only able to despatch goods Mon-Friday excluding Bank holidays.
Q: Can schools have an account with Morgan Computers?
A: Of course they can. Please fax or email an official school purchase order and your school will be invoiced

Bentham Ltd T/A Morgan Computers
Unit 1- 5 Polham Lane
Somerton
Somerset
TA11 6SP
Fax: 01458 274825
E-mail: sales@morgancomputers.co.uk
VAT No: 753 646 903
Company Registration: 4026676
Q: Is the battery on my laptop covered under warranty?
A: On new and Grade A1/A2 refurbished laptops/Tablets the battery will be covered by either our warranty or the manufacturer's warranty. However as re-chargeable batteries are a consumable item, we only warranty that the battery will be in working condition, able to accept and hold a charge for a reasonable time, and will take into consideration the original battery expectations and the overall age of the laptop. In the event of battery failure, or a battery not holding a charge for a minimum of 60 minutes during the stated warranty period we will offer to replace the battery directly or offer a credit to the value of a suitable replacements, non-original/manufacturer parts may be used.
On 2nd user machines we only guarantee that a battery will take and hold a charge. There is no guarantee of battery life.
Q: How to Re-activate or Re-install Windows 10
A:
If you make a significant hardware change, or want to upgrade your HDD to an SSD.. You may need to either re-activate your copy of Windows 10 or completely re-install it from scratch.
First, you'll need to find out if your Microsoft account is linked to your Windows 10 digital license. To find out, select the Start button, then select Settings > Update & Security and then select Activation . The activation status message will tell you if your account is linked.
If your Microsoft account is not linked to your digital license, follow these steps to Add an account:
Sign in as an administrator to add your Microsoft account. To confirm that you're using an administrator account, select the Start button, then select Settings > Accounts > Your info . Under your name, you'll see Administrator. If you're not an administrator, see Create a local user or administrator account.
Confirm that the administrator account is also your Microsoft account by checking to see if an email address is displayed above Administrator. If an email address is displayed, this is a Microsoft account. If not, you're logged in using a local account. If you don't yet have a Microsoft account, you will need to create one for Free on Microsofts site.
Once you confirm that you're an administrator and using your Microsoft account, go back to the Activation page, select Add an account, enter your Microsoft account and password, then select Sign in.
After your Microsoft account has been added, the message on the Activation page will change to: Windows is activated with a digital license linked to your Microsoft account.
Once you are sure that your Windows 10 License is registered to your Microsoft Account, backup all personal files to an external USB device. Then using a FRESH USB drive of 8GB or more you can create a Windows 10 Installation Media drive to make a fresh install of Windows on your new HDD or SSD Use the tools
HERE
.
Once you have created the USB, backed up other personal files, you will need to power off your Laptop/PC open the case, remove the old HDD and install the NEW one. (There are many how to guides on Youtube for almost every make/model or PC/Laptop if you need some guidance)Re-assemble the PC/Laptop and boot it up with the Windows Media Tool USB plugged in, the Bios should detect the drive and begin the guided installation process. When prompted log into your Microsoft account and it will authenticate your license for Windows 10 and then you can begin re-installing your personal data and other programs that you use.
Q: Can I collect goods from your warehouse in Somerset?
A: Sorry, we are not insured for customers on the premises, we are mail order only.
Q: How do I return faulty goods under warranty?
A: If your item develops a fault within the first 28 days we will replace the product (subject to availability)
Q: Is my data covered under warranty?
A: We will not be liable for direct, indirect or consequential damage/loss including the loss/corruption or deletion of data stored, as well as the damage to any applications following a restoration or failure of the product for any device supplied by us. The consumer should be reminded that it is their sole responsibility to back-up the data stored on the hard disk / internal memory of their device or external storage media.
Q: Are there any products that can't be returned?
A: We cannot offer refunds or exchanges, unless faulty or not as described, on the following items: perishable or personalised products and products with a seal for health/hygiene protection are non-returnable unless there is a fault (including but not limited to headphones and shaving products).
Q: What are your delivery charges?
A: Delivery will vary slightly by item and charges are specified. On average our standard courier charge is £6.99 this is for 24-48 hour delivery via DPD. Smaller or less valuable items may have postal delivery options these are send 1st Class Royal mail and delivery normally takes a few working days.
For larger items or bulk orders additional delivery charges may apply - You will be notified of these prior to dispatch if required.
Please ensure your contact email address and mobile numbers are up to date as DPD will use these for shipping updates and tracking information.
Q: Do you deliver to Ireland?
A: Northern Ireland: Our standard delivery charges would apply
Southern Ireland: Price on application
Q: Are your shops still open in London, Birmingham or Manchester?
A: Sadly no, Morgan Computers operate from Somerset so all orders need to be placed via the website or over the phone. All outlets are now closed.
Q: Who are Morgan Computers and am I safe buying from you?
A: Morgan have an established trading record dating back over 25 years. We are not a company that has popped up with a web site and not much substance to back it up. We have now part of the Bentham Group! The company is a member of the SHOPS mail order scheme that protects readers who buy via national newspapers. To read more about our background, terms of sale, security and privacy policies click here.
Q: Is your site really secure? I am worried about entering my credit card details.
A: We take matters of web security very seriously - when you go to our on-line ordering system, you are transferred to a secure area of our server using secure server software (SSL). This means that the information that you send is coded so that only we can de-code the information to obtain your personal details. You will notice that the address will change from http:// to https:// indicating a secure server and that a padlock will appear at the bottom of the page. For further information check our security policy
Q: It's all very well having a web site but what if I want to contact someone?
A: You can contact us at any time - for specific enquiries regarding internet orders please e-mail websales@morgancomputers.co.uk, this will ensure your enquiry is effectively processed.
Q: When can I contact a member of the Internet sales team?
A: You can contact a member of the sales team on 0800 008 7451 or 01458 271360 who will be happy to help with any aspect of your order or for general enquires Monday to Friday between 9:00am - 5:30pm
Q: What is your returns policy?
A: In the unlikely event that your order has been damaged in transit to you, or is not functioning correctly within our specified waranty periods just give us a call or email us and we will be happy to assist you.
In accordance with Consumer Contracts Regulations 2015 that replaced the Distance selling regulations of 2000 You have the legal right to cancel your contract/order withn 14 days from the date they arrive with you. During that time you are of course welcome to inspect the goods to a reasonable level. That is to say the same level as you would have enjoyed in a retail store. If the goods are New electrical goods then reasonable handling would not extend to testing/using the item, removing protective screen covers, breaking security seals etc.
You have a duty of care for the item and its packaging. Including but not limited to the way in which the item is packaged for return. If it becomes damaged or soiled wither in your possesion or during return transit we reserve the right to offer a reduced refund, or in extreme cases a refund may be refused.
During the repair or replacement of electrical goods we may need to perform factory reset(s) or full operating system re-installations or replacment of Hard Drives. We can not accept any liability for lost or corupt data as a result of any fault or result of any repair/replacement. In the case of Apple devices please ensure that you remove any Apple ID's from the device before returning it. We will not be able to replace/refund any Apple item that is ID/Cloud locked.
All items must be returned in/with original packaging and in as sent condition. In an ideal world all your purchases would be perfect – we do try our best – however there will inevitably be occasions when you need to return goods to Morgan.
In order to deal with your return efficiently it is vital that you obtain a returns number (RMA); this enables us to track your return efficiently and ensure there are no unnecessary delays. Please contact us on 0800 008 7451 or by email at websales@morgancomputers.co.uk to obtain an RMA number; we will give you full instructions on how to return your goods.
Please note that if you return an item without first obtaining an valid RMA we can not accept liability for the return. The cost of returning unwanted items is yours. Items that are faulty or being returned under warranty will most often be collected fre of charge or a freepost address issued - All warranties are UK Only.
Q: What About Dead On Arrival Goods?
A: If your item is faulty upon arrival, you must inform us within seven days. Items should be returned in their original packaging complete with all accessories and documentation. Subject to testing, we will issue a replacement or refund and reimburse your reasonable return carriage costs.
Please note that if returned goods are found not to be faulty, you will be liable for the return carriage costs.
If goods are damaged in transit you must inform us within 48 hours, please ensure you take a few photographs of any damage as these may be requested in order to arrangte an exchange or return. If you notice that items are visibly damaged upon receipt, sign the carriers note accordingly ie "Goods received damaged" or "Goods unchecked".
Please remember that you must obtain a returns (RMA) number before returning goods to us (see above)

Q: What is a dead pixel and what are the levels of acceptance?
A: LCD displays are made up of millions of pixels (each one then made up of 3 sub-pixels – red, blue and green). Each sub pixel has its own transistor so due to the complex nature of the technology, defects can occur in the manufacturing process. Unfortunately such defects cannot be repaired. An ISO standard has been established to regulate acceptable levels of defects and protect the consumer. ISO 13406-2 states how many pixel faults are acceptable before a display should be replaced. Morgan's company policy is to work to the ISO standard.
Q: What other questions should be in this FAQ section?
A: Let us know - if something is unclear or bugging you, tell us and we will add it to this help / FAQ section. Click the link to email. websales@morgancomputers.co.uk
Fax: 01458 274825
Q: What does Refurbished mean?
A: Strictly speaking it means the renovation, repair or restoration of a previously used article. Our stock is sourced from a wide variety of outlets but the quality control process is the same.
Our range or Laptops, Computers, TV's, Tablets, Cameras and more are tested thoroughly to ensure that they meet the original performance and reliability standards, Hard Drives, Memory, Processors, Screens and components are all tested to ensure they pass strict quality standards. If there are any faults. or failures identified they are repaired with high quality components either original branded or alternatives and re-tested, please note that rechargeable batteries in things like Tablets, Phones, Laptops may have a slightly reduced capacity due to age, we will ensure they accept and hold a reasonable charge, replacing any faulty batteries with new. As part of the refurbishment process non UK or heavily worn keyboards can now be digitally re-printed or re-finished with laser cut vinyl full face key covers to ensure you get the best quality and finish.
Once they pass they are cleaned and then graded cosmetically. We run a grading system of As New, A1, A2 or Pre-Owned
We do not refurbish/repair products our selves, this is left to the specialists! We concentrate on finding you the best deals and widest choices. We do inspect all goods to ensure they meet our grading guidelines!
Finally all of our goods are sold with our own warranty to ensure that you have total peace of mind, should a fault arise within the warranty period we will collect the goods from anywhere in the UK and repair or replace them for you free of charge.
Q: What is your policy on product reviews?
A: We actively encourage our customers to leave reviews on products they order. We offer no incentive for this nor do we reward good reviewers.
We publish product reviews where content is related the product ordered/reviewed.
We reserve the right not to publish, to remove/delete or potentially edit reviews not related to the item. Or reviews that contain bad language including swearing or abusive language of any kind, personal or identifying information, defamatory remarks. We also reserve the right to remove or not publish reviews left by individuals that have not purchased the review item.
Q: What type of Video connector do I need for my screen/PC/Laptop?
A: There are several types of AV connector, some more less common or more obscure than others! Here is a guide on what they look like and what they are called!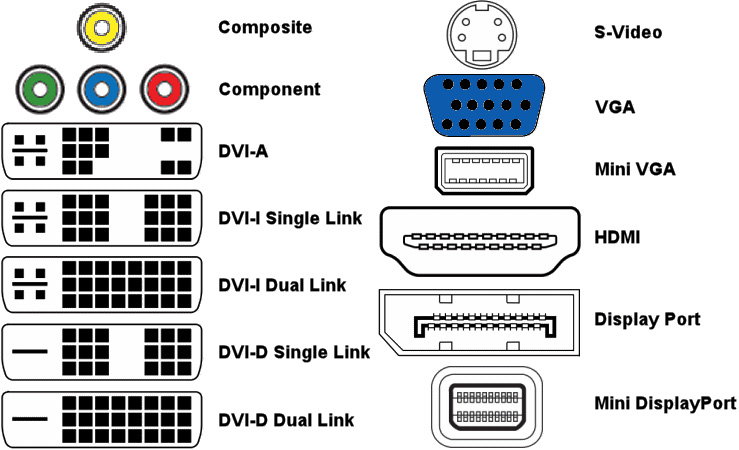 Q: What is DMS-59?
A: DMS-59 (Dual Monitor Solution, 59 pins) is generally used for computer video cards. It provides two Digital Visual Interface (DVI) or Video Graphics Array (VGA) outputs in a single connector.
DMS-59 splitter/cables are available at low cost and in a range of connection styles(DVI, VGA, Displayport). Allowing the user to run twin screens from a single DMS-59 socket either as mirror screens or extended desktop/workspaces. Below is an example of a DMS-59 to VGA cable: