ZeTel Touch Screen Smart Watch for iPhone & Android - Silver
not for sale
[£33.29 ex VAT]
[£39.95 inc VAT]
Delivery info
Postal Delivery £3.99
item # 419257S
Condition:
New
Warranty: 12 Months warranty
What It Does
Specifications
ZeTel is a 2G SIM* watch phone powered with Bluetooth 4.0 connectivity, built-in microphone and speaker that allows
users to handle calls and text messages directly from their wrist.
On its transflective color touchscreen, ZeTel notifies users
of incoming calls, SMS, emails, social media activity and life reminders without having to look at their phone.
ZeTel also
supports Siri and Google Now to let you easily interact with your phone using voice commands.
Equipped with a 6-Axis
accelerometer and a heart rate sensor, ZeTel tracks and shows your daily steps so you can keep an eye on your activity
level.
ZeTel can also be used as a remote control to take pictures. ZeTel features an anti-lost alarm that alerts you when your
paired device is away and a find my phone function that helps you track it back.
Compatible with iOS 7+ and select Android
4.3+ devices that support Bluetooth BLE, ZeTel comes with a free mobile app that let you pick and choose the information
you want to receive on your smartwatch.

Answer or reject a call from your wrist - Built-in microphone & speaker to handle call
s
Get your notifications from your wrist - SMS, email, events and social media notifications on your wrist
Easily interact with your phone - ZeTel supports Siri & Google Now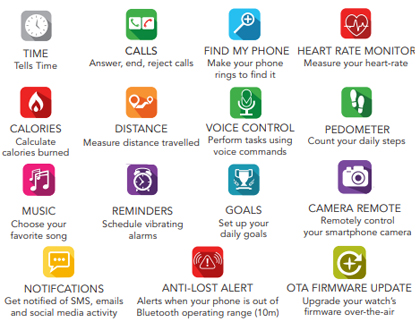 Set up via the ZeTel mobile app
Download ZeTel free app on Google Play and App Store to set up your watch
Monitor your performance level and analyze your progress
Select the notifications you want to get on your wrist
Set your own goals to stay fit all day long
Schedule vibrating alarms to manage your day
Dimensions: 40.5 x 13.5 x 62 cm
Standby time: up to 3 days
Display: Transflective touchscreen
Sensor: 6-axis accelerometer
Operating temperature: -10°C to +60°C
Accessories included: magnetic charger, USB cable
Customers who viewed these products also viewed...
item # SIMMOR
Our price

£0.00

ex vat (£0.00 inc vat)

Promotional offers do not apply to this product
item # 42709
Our price

£24.96

ex vat (£29.95 inc vat)

Promotional offers do not apply to this product
item # 419257
Our price

£33.29

ex vat (£39.95 inc vat)

Promotional offers do not apply to this product
Recycling
You can now recycle your old electricals with us. If you are buying a new electrical item, we will recycle your old one for free. Read more about our recycling programme.